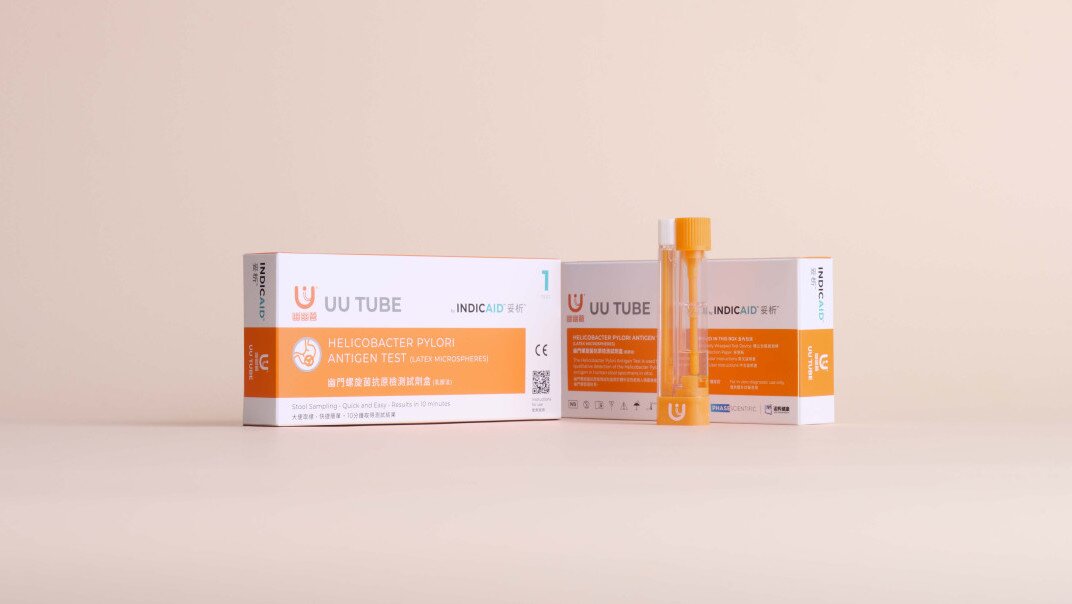 Helicobacter pylori is commonly transmitted by saliva and can also be spread by fecal contamination of food or water. In global population, about 2∕3 of people is infected, and about 55% of the Hong Kong population is infected. Only 20% of those infected show symptoms. With an early detection, H. pylori infection can be treated by antibiotics treatment. If left untreated, infection of the bacteria can lead to chronic inflammation, gastric ulcer disease and increase risk of developing gastric cancer[1]. This white paper describes the evaluation of the UU TUBE by INDICAIDTM HELICOBACTER PYLORI ANTIGEN TEST to detect H. pylori bacteria.
The UU TUBE by INDICAIDTM Helicobacter Pylori Antigen Test
The UU TUBE by INDICAIDTM Helicobacter Pylori Antigen Test by PHASE Scientific is a rapid antigen test for detection of H. pylori antigen in human fecal specimen qualitatively. The test is suitable for both professional medical setting and consumer self-test. The test is carried out by sampling stool sample and followed by simple steps according to instructions. The result will appear after 10 minutes. With the ease of use and the lack of need to ingest any pills, the UU TUBE is an accurate, user-friendly alternative to the gold standard Urea Breath Test.
Study Design
HONG KONG
In Hong Kong, 138 consented volunteers are recruited for the comparison of UU TUBE and Urea Breath Test (UBT). The volunteers, who have not been tested or treated for H. pylori previously, performed both tests within 3 days apart (Figure 1). Overall agreement rate between the tests is calculated and compared (Table 1).
Figure 1. This flow chart illustrates the process of comparison program in Hong Kong.
CHINA
In Mainland China, UU TUBE is registered in NMPA (Registration Number: 20213401126). There are 744 patients recruited to compare UU TUBE and UBT. The results comparison between Hong Kong and China Mainland is shown in Table 1.
Test Performance
| UU TUBE vs UBT | Hong Kong | China |
| --- | --- | --- |
| Number of Patients | 138 | 744 |
| Overall agreement rate (%) | 93.5% | 98.1% |
Table 1. The overall agreement rate of UU TUBE and UBT of Hong Kong and China cohort respectively.
Conclusion
Urea Breath Test is the gold standard for detecting H. pylori. From the comparison study, it is illustrated that UU TUBE achieved similar detection ability as UBT. Consequently, UU TUBE is an accurate, pain-free, at-home test alternative to detect Helicobacter pylori.
Contact us at indicaid@phasesci.com / visit us at www.phasescientific.com
Reference
1 Wroblewski, L. E., Peek, R. M., Jr, & Wilson, K. T. (2010). Helicobacter pylori and gastric cancer: factors that modulate disease risk. Clinical microbiology reviews, 23(4), 713–739. https://doi.org/10.1128/CMR.00011-10