PHASIFY VIRAL Sample Collection Kit (Saliva)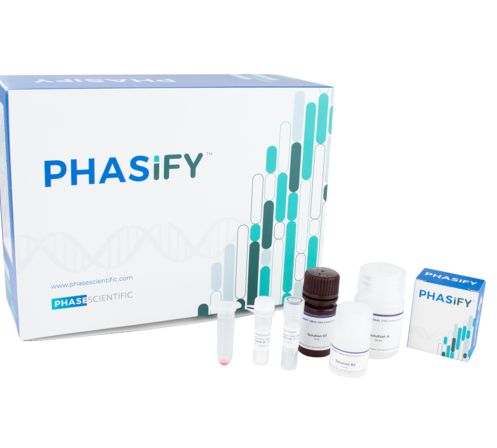 The PHASIFY Sample Collection Kit (Saliva) (CE-IVD) is designed for safe collection, preservation, storage, and transport of viral ribonucleic acid (RNA) for subsequent extraction and downstream PCR test.
For in-vitro diagnostic use only.
Order Now
About
Features
Safe Collection :  Virus sample is inactivated during sample collection, reducing risk from sample handlings
Safe Preservation: RNA is safeguarded for up to 14 days
Compatible: Works with major RNA extraction kits
Easy Transportation: Can be shipped and stored in room temperature, eliminating cold chain storage
Specifications
| | |
| --- | --- |
| Specimen type | Saliva |
| Shelf life | 12 months |
| Storage condition | 15-30°C. Do not freeze. Avoid direct sunlight. |
After saliva collection, the specimen is sampled on Day 0, 7, and 14. For each sample, the RNA is extracted and detected via RT-qPCR. The RNA in the specimen is stable and can be preserved for 14 days, since there is no significant change in Ct-value.
FAQs
If the buffer solution was spilled, flush the affected area abundantly with water upon disposal. Do NOT clean buffer solution spills with bleach.
Avoid having the buffer solution come into contact with your eyes, skin and mouth. If contact occurs with the eyes, flush with water immediately and seek medical help. If contact occurs with your skin, wash the area with soap and rinse with water. Do not ingest the buffer. If accidental ingestion occurs, please seek medical help immediately.
Return your specimen to your healthcare provider for testing. For remaining kit components, carefully wrap and seal all product components and dispose by throwing it into the garbage just like any household trash.
Eating, drinking, smoking, brushing your teeth, or chewing gum prior to sample collection may interfere with the downstream molecular test, giving less accurate results. For best results, it is recommended to collect the saliva in the morning before cleaning your teeth and before breakfast. Otherwise, you can choose to avoid eating, smoking, drinking, brushing your teeth, or chewing gum for 30 minutes prior to collecting your sample.