PHASIFY MAX cfDNA Extraction Kit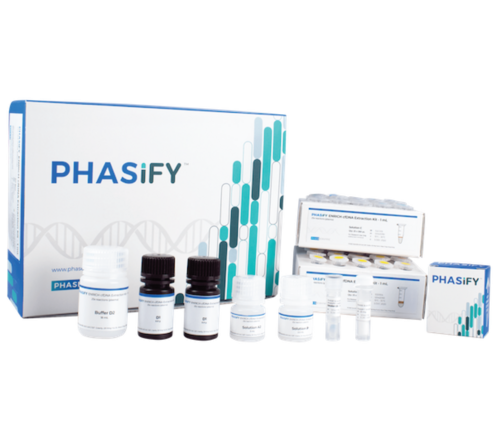 The PHASIFY MAX cfDNA Extraction Kit (CE, NMPA-certified) isolates and concentrates cfDNA from plasma, demonstrating significantly improved recovery against standard solid phase extraction.
For in-vitro diagnostics use only.
Features
High Yield: Multiple fold increase in cell-free DNA recovery compared to solid phase extraction
High Concentration: Flexible elution volume as low as 5 μL
Simplicity of Operation: No specialized equipment such as magnetic racks and vacuum pumps
Specifications
Applications
ddPCR, PCR, real-time PCR, NGS, other
Sample type
Plasma
Time per run
~180 mins
Input volume
1 mL, 2 mL
Elution volume
5 µL - 150µL
Shelf life stability
12 months
Intended use
In-vitro diagnostics use only.
Processing
Manual
Shipping condition
Room temperature
Storage condition

RT Box: Stored at 15-30°C

COLD Box: Stored at 4°C
Figure 1- Improved yield of circulating tumor DNA (ctDNA)
The cfDNA was extracted from 89 tissue positive cancer patient plasma samples (1 mL) using PHASIFY MAX and the Qiagen QIAamp kit. Total DNA recovery was measured using Quant-iT™ PicoGreen™ dsDNA Assay Kit. On average PHASIFY™ MAX demonstrated a 3.8-fold increase in total DNA recovery compared to Qiagen QIAamp. (P-Value <0.0001 Wilcoxon Signed-Rank). Note, 2 outliers were excluded in which PHASIFY™ MAX generated 209-fold and 800-fold greater recovery.
Figure 2 – Improved mutation detection
In 13 samples, mutations were detected in samples extracted with PHASIFY™ MAX, but not with Qiagen QIAamp.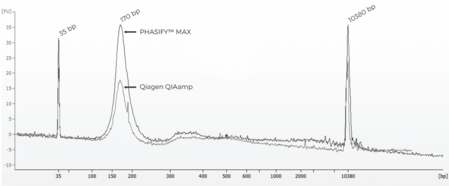 Figure 3 – Greater Recovery of Desired cfDNA Fragments
DNA was extracted from 1 mL healthy human plasma using PHASIFY™ MAX or the Qiagen QIAamp Circulating Nucleic Acid kit. The extracted DNA was analyzed on Agilent Bioanalyzer 2100, where 35bp
and 10,380bp peaks correspond to internal markers.